Skip all the coding and get Facebook Ads data in just four clicks with the Renta ETL.
Export your Facebook Ads data along with the performance metrics of your digital campaigns to Google BigQuery. With the Renta ETL solution, you can create an integration without having to write and maintain ETL scripts.
You can compose the datasets you want to work with and leave all the unnecessary stuff behind.
How does it work?
We weren't kidding when we said that you could create this integration in just four clicks and less than five minutes. Here's how the setup goes.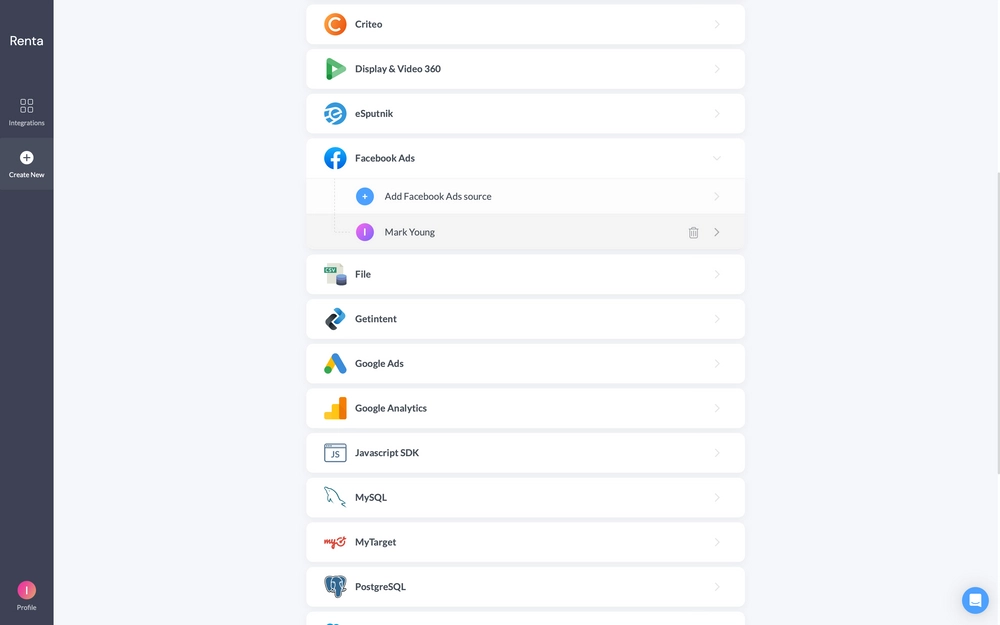 Add your Facebook Ads account and simply select it from the list of accounts available
Add your Facebook Ads account
Add your Google BigQuery project
Specify integration settings
Add your ads account.
In the integration directory, select Facebook Ads. Add your account and log in.
You can add multiple accounts. Select one of them to proceed.

Specify the data warehouse.
Specify the destination for your Facebook Ads data. Select Google BigQuery and choose your BigQuery project.

Specify integration settings.
Define the schema for data sync with your target data warehouse and configure the data update frequency and update type for the pipeline.
Click Save — and you're done! The integration has been created and now your Facebook Ads data will be replicated into your Google BigQuery data warehouse.
The data structure of the Facebook Ads API
Renta supports data export from advertising accounts, including the Business Manager. Here are what kinds of data sets are supported by the Renta ETL solution: 
Campaigns
The Campaigns report retrieves settings of ad campaigns and their statuses. This includes the campaign ids, names, objectives, activation statuses.  
Ad sets
This report provides data on Ad Sets in a Facebook Ads account — the Ad Campaign id/name to which the Ad Set belongs, as well as budgeting, bid type, scheduling, and audience targeting details.
Ad Creative
Provides layout and contents of the ad, such as link ads and page post ads. Aside from standard API parameters, Renta will also allow you to export UTM parameters you use in ad URLs. 
Find more about the opportunities of the Renta pipeline and the data structure in the documentation.
Why Renta ETL?
Renta gives you complete control over your data and endless options for its transformation. Choose the raw data you want to work with and leave all the unnecessary information behind.
Flexible data set
Create the data set you want to work with by choosing the types of data you want to replicate.

Unlimited options for custom transformation
Use dbt transformation models to format your data the exact way you need it.

Incremental data refresh
Configure incremental refresh — get your updates faster and spend less on data transformation.

Retrospective data refresh
Keep your data always precisely updated. Even if you make changes post-factum, the data sets will also be updated. You can set the timeframe for the update to keep the data accurate and get results faster.
Renta will also allow you to fetch the historical data stored in your sources and replicate it to BigQuery with no limits.
What is Facebook Marketing Platform?
Facebook Ads is a marketing platform that allows brands and individuals to promote their services to a large audience on the Facebook social network. This marketing channel is widely used by both global corporations and small businesses worldwide.
What are the core features of Facebook Ads?
Using different types of content in the ads, including pictures, videos, and text.

Targeting users based on their location, demographic, profile information, and user behavior.

Automatic сampaign optimization and analytics tools.
What is Google BigQuery?
Google BigQuery is a cloud-based data warehouse solution that allows for storing, managing, and analyzing data. BigQuery can process very large read-only datasets in a matter of seconds.
What are the core features of Google BigQuery?
Storing data with columnar storage format.

Descriptive and prescriptive analytics, including business intelligence, machine learning, and ad hoc analytics.

Centralized management of data and compute resources.
Why collect data from Facebook Ads in Google BigQuery?
Using Google BigQuery to collect data from Facebook is becoming increasingly popular for marketing teams.
Google Cloud allows the user to store, analyze, and visualize data in a secure environment. With BigQuery, users can easily access and query their data stored in the cloud. By combining data from Facebook Ads with other sources, such as Google Analytics or Salesforce, users have an even richer set of insights into their customer base.
Additionally, BigQuery's integration with Looker Studio makes it easy to create custom dashboards with visuals that show key performance indicators.
All these features make collecting data from Facebook using BigQuery an excellent option for businesses and organizations looking to gain deep insights into customer behavior.
Frequently asked questions
How much does it cost to replicate data from Facebook Ads to BigQuery?
The cost depends on the amount of data in your Facebook Ads you want to replicate to BigQuery. Check out our pricing page for more information. Or give it a try and request a demo for free!
Is there a limit on the amount of pipelines from Facebook Ads to BigQuery?
The amount of data streams you can create is not limited. Moreover, the amount of created integrations does increase the data replication price either.
How much time do I need to create a Facebook Ads and BigQuery integration?
Renta's user-friendly interface allows you to create integrations in less than 7 minutes. All you need to start is your login data to Facebook Ads and BigQuery.
Supported data warehouse: