Renta ETL is a simple way to create data pipelines in minutes. Not months.
DV360 is a unified platform for managing ads acquisition in real-time.
Renta offers you a simple code-free way to collect the stats from the platform and transfer it to Google BigQuery in a matter of minutes.
4 clicks and you're ready to analyze KPIs in the BI-system and optimize your campaigns. 
How does it work?
Setting up the DV360 integration is a simple and quick process that can be completed in just a few steps. Here's how to get it up and running: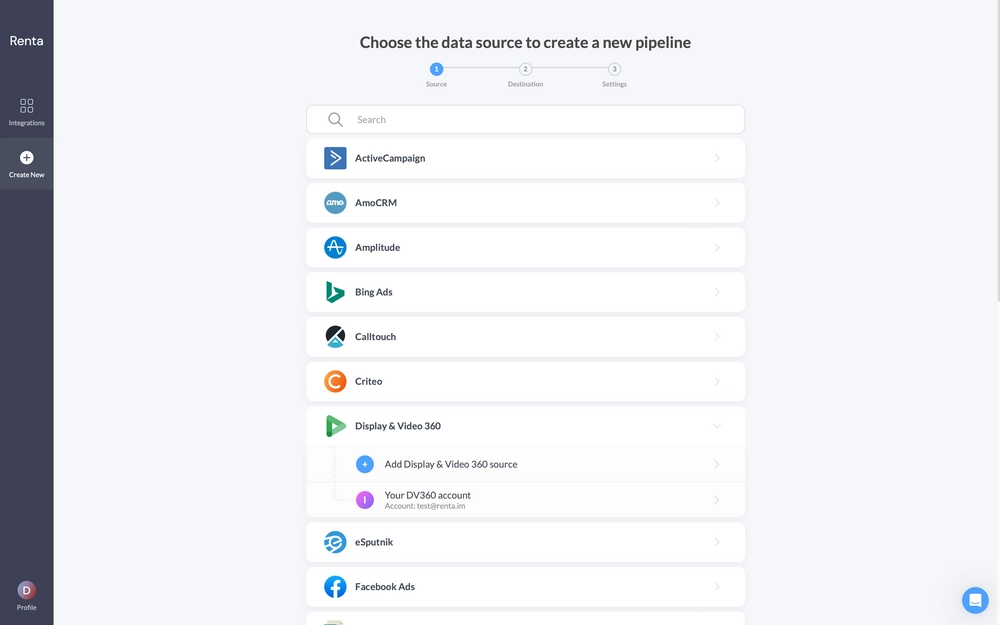 Add your DV360 account and effortlessly choose it from the list of available accounts
Add your DV360 account
Add your Google BigQuery project
Specify integration settings
Add your DV360 account and choose it from the list of available accounts.
Navigate to the integration directory and select Display & Video 360. Add your DV360 account by signing in with your Google account.

Specify your Google BigQuery project.
Determine where you want to store your DV360 data. Choose a data warehouse like Google BigQuery, and then select the corresponding BigQuery project.

Configure integration settings.
Define the schema for data synchronization with your target data warehouse, and configure the data update frequency and update type for the pipeline.
Click Save to finalize your settings. The integration is now set up, and your DV360 data will be replicated into your chosen data warehouse.
The data structure of the DV360 API
Renta supports the standard methods of exporting statistics from an advertising account.
Frequently asked questions
How much does it cost to replicate data from DV360 to BigQuery?
The cost depends on the amount of data in your DV360 you want to replicate to BigQuery. Check out our pricing page for more information. Or give it a try and request a demo for free!
Is there a limit on the amount of pipelines from DV360 to BigQuery?
The amount of data streams you can create is not limited. Moreover, the amount of created integrations does increase the data replication price either.
How much time do I need to create a DV360 and BigQuery integration?
Renta's user-friendly interface allows you to create integrations in less than 7 minutes. All you need to start is your login data to DV360 and BigQuery.
Supported data warehouse: